WQXR
By Amanda Angel
March 18, 2016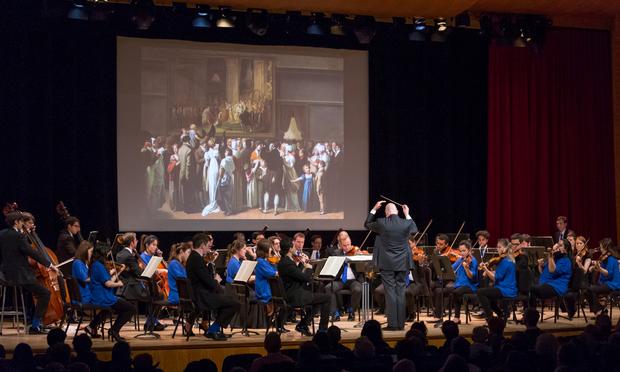 Leon Botstein conducts TON at the Metropolitan Museum of Art. (David DeNee)
Often, when a classical music hall is described as a museum, it's meant pejoratively. But for Leon Botstein, president of Bard College, director of the American Symphony Orchestra and the force behind a new program training future musicians, The Orchestra Now, the classical world could take notes from its counterparts in the visual arts.
"The museum has been reinvented so I'm using the term 'museum' in the more modern use of the word, as a lively place in which the new and the old meet, where there is a kind of curating," he explained.
This approach is at the heart of TON (pronounced to rhyme with phone), a three-year graduate program at Bard, which launched this past fall. In addition to musical training and classes in curatorial studies, the students present an ambitious series of free and ticketed performances. In between preparations for its concert Friday, March 18, at the Brooklyn Center of Performing Arts, Botstein talked to us about five lessons the concert orchestra could learn from museums:
Programming as curators
"The whole idea is to curate a concert so that it resembles much more what a museum does. When you go to a show there's an argument — a historical argument, a biographical argument —the paintings aren't just thrown up on the wall at random. And there's a catalogue which helps the viewer not only look around at the paintings but also to evaluate the arguments being made and to look at the familiar in a new way. There's always a thematical adherence to the museum exhibition, and we're trying to accomplish the same thing in concert programming."
Listening to recordings is like looking at copies
"In art, the picture of a painting or sculpture in your art history book or on your computer is clearly not a work of art, however, recording, after the Second World War, particularly, developed an aura of importance. Why go hear TON play the Goldberg Variations when you could listen to Glenn Gould on your HiFi, right? We're coming slowly out of that. It's quite clear that the HD opera is not opera and that the recording of a Mahler symphony you have on your iPhone is not a symphony. It's like a snapshot in an art history book. We're in the business of reviving the idea that the experience of music has to be in real time with acoustic sound."
Finding relevance in the subject material
"There has always been a struggle of how do we make the connection between music and everything else we do. It's a lot of easier when there's a text. If you're talking about instrumental music one of the things we have to do is find a way to connect the public to the function of music and what you can learn from music about the world you live in. Concertgoers are interested in politics and religion and they're interested in painting or sculpture or films. They're curious people that are participating in the cultural life, and you have to relate to their interests. We're doing programs that try to respond to their genuine thirst for information and for insight."
Providing a space for experimentation and reflection
"There's no right way to listen. You don't have to know a lot to go to a museum, look at painting, form your opinion, express your curiosity and be delighted by what you see; and the same goes for music. Presenting concerts is an exercise in innovation. It's a laboratory not a pharmacy, dispensing already proven products. It's experimenting to see what works, in an effort to solve what is the function and future of an orchestra."
Fostering a conversation and language around music
"Everybody says, 'Oh I don't go to concerts, I don't know anything about classical music,' but I keep saying you don't need to know anything. I don't know anything about art; I don't know anything about movies, and I go to museums and movies all the time. I'm persuaded that there's something to know. They don't need to give you an analysis of the work they heard, but they can express if they've had a good time and were moved or not moved by it. And these orchestra members in TON are learning how to use of language to talk about music. That's why at concerts we have a question and answer period after a concert, and that's why we encourage the musicians to talk with the audience."
Quotes have been condensed.
Read original story here.